Tiger sneaks into Europe
Category: Exhibitions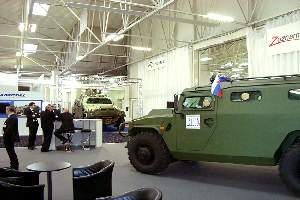 The Slovak capital, Bratislava, had hosted the 6th International Defence Exhibition Bratislava (IDEB 2016) from 10 to 12 May this year. The show was attended by 122 firms from 20 countries, including major European arms manufacturers.
The Military Industrial Company (VPK LLC) took part in the exhibition in cooperation with its Slovak partner Corvus Slovakia s.r.o. and displayed a full-scale example of the SBM VPK-233136 Tigr armoured car.
The two companiesí stand prompted intense interest of exhibitors, experts and the public at the show. The exposition was visited by ranking officers of the Slovak General Staff and Slovak Army, who were truly interested in the Tigr armoured car.
Mention should be made that a full-scale Aligator II armoured vehicle, an analogue of the Tigr, was on display across the aisle from the Tigr. Nonetheless, many experts inquired specifically about the Russian vehicle.
It is unclear, though, why the Russian media covering the arms show in Bratislava have kept mum about the full-scale Russian-made Tigr displayed at IDEB 2016.
Military Industrial Comp
03.06.2016
www.milindcom.ru/eng
Share...




At the Army-2019 will be presented a new version of the Tiger armored vehicle.
24.06.2019
BAE Systems to participate in IDEB in Bratislava
17.05.2018
Tigr at Tank Days in Slovakia
12.07.2016
Textron Marine & Land Systems Presents Tiger Light Protected Vehicle to Slidell Police Department
06.08.2013
GAZ-2330 STS Tiger (Tactical vehicle)
Tiger (Reconnaissance Vehicle)
VPK-233136 Tiger-M (Tactical vehicle)
China Tiger (Wheeled armoured personnel carrier)
Tiger Next/AMN-2 (Tactical vehicle)
Discuss