Tigr at Tank Days in Slovakia
Category: Defence Industry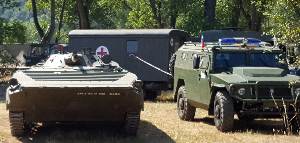 The Tank Days in Laugaricio – a festival of history and military hardware enthusiasts, which has become a tradition – took place about 100 km from Bratislava in 1 and 2 June.
Dozens of private collectors of military gear bring to the show over a hundred full-scale tanks, self-propelled artillery systems, infantry fighting vehicles, armoured personnel carriers, armoured vehicles, army lorries, guns and mortars and even airplanes as well. Although the material dates back to early last century, all vehicles are in good running order.
This year's festival featured the debut of the SBM VPK-233136 Tigr (Tiger) armoured car from the Military Industrial Company (VPK). By tradition, the Tigr rode as part of the column of the vehicles participating in the show and then displayed its cross-country ability, having impressed thousands of the spectators by its ability to move fast in terrain devoid of roads altogether.
After the demonstration had been over and the vehicles had been parked at their spaces, the Tigr was scrutinized by representatives of the Slovak uniformed services attending the Tank Days show. They familiarised themselves with its equipment and then tried the vehicle on the move. During the test drive, Slovak servicemen overcame a number of natural and cultural obstacles and tried the car in various modes off road, having noted the Tigr's high average speed and smooth ride. According to the experts who tested the Tigr, they liked the vehicle very much and would not mind to have it at their disposal.
Military Industrial Comp
12.07.2016

Share...




Military-Industrial Company LLC completed preliminary tests of the Boomerang armored vehicle
06.12.2019
Protection of BTR-87 8x8 will increase due to the use of ceramics and titanium
13.01.2018
Tiger sneaks into Europe
03.06.2016
State Company UKRSPECEXPORT represents Ukraine at the International Defence Exhibition and Conference 'IDEX 2011' (Abu Dhabi, UAE) to be held from 20th till 24th February, 2011
23.02.2011
Military Industrial Company LLC - VPK
TIGR (Robot, Unmanned Vehicle)
Discuss