The Netherlands procure Leguan bridge layers
Category: Contracts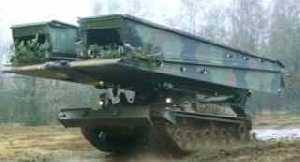 Munich/Koblenz -- On behalf of the Dutch procurement office (DMO), the German Federal Office of Bundeswehr Equipment (BAAINBw) signed an agreement with Krauss-Maffei Wegmann (KMW) for the procurement of five Leguan bridge layer systems on Leopard 2 chassis on 20 December, 2016.
The entire procurement plan also includes training simulators, accessory equipment and an option for additional bridge layer systems. The vehicles will be transferred to the Dutch army in 2019 and 2020.
This version of the Leguan is capable of laying and transporting two 14 metre long bridges or one 26 metre long bridge, even under combat conditions.
The Dutch army is the sixth user of the Leguan on Leopard 2 chassis. In total, armies from 17 countries operate the Leguan bridge layer system on various mobility platforms.
KMW
26.12.2016

Share...




Multimillion-euro order from Hungary
02.10.2019
The Dutch armed forces select Rheinmetall to modernize their Bergepanzer 3 Büffel
17.05.2019
Krauss-Maffei Wegmann supports the modernization of the Hungarian Army
22.12.2018
Rheinmetall ships 200th Puma IFV to the Bundeswehr
05.06.2018
Krauss-Maffei Wegmann GmbH & Co.KG - KMW
LEGUAN 26M AVLB (Armoured vehicle-launched bridge)
LEGUAN 26M (Armoured vehicle-launched bridge)
Discuss