Factory Tests Barys 8x8 Armored Vehicle Started In Kazakhstan
Category: Defence Industry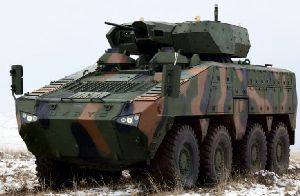 The Kazakhstan Paramount Engineering company has started the factory running tests of the Barys 8x8 armored wheeled vehicle.
This Armored Personnel Carrier (APC) is equipped with a stabilized remote-controlled turret with a 2A42 30-mm automatic gun and a 7.62-mm PKT coaxial machine gun, created by the Kazakhstan plant KAE, which produces defense electronic products, together with the Turkish company Aselsan.
After their completion, the Barys 8x8 will be presented to the experts of the Ministry of Defense of the Republic of Kazakhstan for military tests in extreme winter climatic conditions. The test program provides for shooting from standard weapons, both during the day and at night.
The new armored personnel carrier, which includes advanced technological solutions, was the result of development of Kazakhstan Paramount Engineering LLP jointly with the South African company Paramount Group.
Armored vehicle is multipurpose, mobile and meets the high requirements of ballistic and mine protection.
Barys 8x8 was first demonstrated during the IV International Exhibition KADEX, in June 2016 in Astana, Kazakhstan.
Sergyi Way
23.11.2017


www.army-guide.com
Share...




Serbia intends to buy a batch of Chechen Chaborz military all-terrain vehicles
20.10.2018
Kazakhstan Paramount Engineering's 8x8 combat vehicle nearing service entry
14.03.2018
Production of ALAN armored cars is in place in Kazakhstan
10.12.2017
Prominent presence in Poland for Denel
07.09.2017
Kazakhstan Paramount Engineering LLP
Kazakhstan Aselsan Engineering LLP - KAE
JSC Kazakhstan Engineering National Company - KE
Barys 8x8 (Wheeled armoured personnel carrier)
Barys 6x6 (Wheeled armoured personnel carrier)
Discuss