SOE KMDB Unveiled a New Version of the DOZOR-B APC
Category: Defence Industry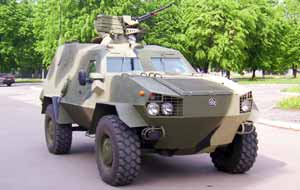 Kharkiv, Ukraine – The leading Ukrainian developer of armoured vehicles – State-owned Enterprise Kharkiv Morozov Machine-building Design Bureau – unveiled a new version of its Dozor-B 4x4 light armoured personnel carrier.
The Dozor-B armoured personnel carrier (APC) was developed by the SOE KMDB as a private venture. The first example of the APC was repeatedly demonstrated at specialised exhibitions and presentations in Ukraine and arose a considerable interest among experts and potential customers.
Apart from the driver, commander and guner, the vehicle can accommodate up to eight troops, with the protection of the vehicle crew being paid much attention to. The armoured hull ensures protection against small arms fire and shell splinters. The special shape, double bottom, improved fasteners of seats, the front wheels positioned far afore of the driver's position and armoured bulkhead between the engine and the crew compartment provide a reliable protection against mines. The vehicle is also fitted with an collective NBC protection system and a fire suppression system.
The new version of the vehicle is powered by a diesel engine that meets the EURO-3 – Deutz BF 4M 1013FC requirements and develops 190 hp with a maximum torque of 700 Nm. The engine is united in one assembly with the Allison 1000LCT automatic hydraulic-and-mechanical transmission, which features five forward gears and one reverse gear.
The Dozor-B can form a basis for a family of specialist vehicles, including:
armoured personnel carrier
radiation and chemical agent detection vehicle
general purpose vehicle etc.
Sergyi Way
24.05.2006


www.army-guide.com
Share...




Problems of Russian Vacuum APFSDS-T projectile
25.01.2019
Bumar Labedy represents the PT-17 MBT on the MSPO 2017
07.09.2017
KMDB has manufactured a version of the BTR-4 fitted with additional protection
08.03.2014
Representatives of the Iraqi Ministry of Defence Have Accepted Another Batch of BTR-4 Armoured Personnel Carriers
08.02.2013
Kharkiv Morozov Machine Building Design Bureau - KMDB
Dozor-B (Wheeled armoured personnel carrier)
Discuss