Egypt Offers 181 Millions for 200 M109 SP Howitzers
Category: Contracts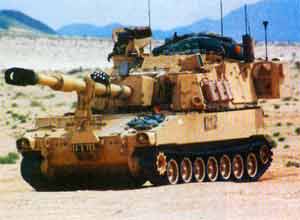 The US Congress is considering a possibility of selling 200 repaired M109A5 Paladin self-propelled howitzers with 155 mm gun, as well as accompanying equipment and services, to Egypt. The total amount of the deal is said to be USD181,000,000.
The Egyptian government requested the US Armed Forces to sell 200 M109A5 Paladin self-propelled howitzers with 155 m gun, communications equipment, spare parts, auxiliary and test equipment, technical documentation, training equipment, and logistic support. This is to be acquired in oder to enhance the combat capabilities of the Egyptian Army.
BAE Systems Land and Armaments is supposed to be the main contractor for repairing the howitzers.
Sergyi Way
06.07.2006


www.army-guide.com
Share...




BAE Systems receives U.S. Army contract to begin M109A7 full-rate production
23.12.2017
$245.3 Million U.S. Army Contract to Continue M109A7 Production
04.11.2015
BAE Systems To Continue M109A7 Production With $142 Million Follow-on Contract
09.11.2014
BAE Submits Bid for Highly Survivable, Affordable AMPV
02.06.2014
M109A6 Paladin (Self-propelled howitzer)
Discuss
Records 1 to 5 of 5
Post

Ayed
14:07 07.07.2006


These old howitzers won't much improve the capabilities of the Egyptian army.

Miles Teg
22:14 07.07.2006


They actually already have these tanks. They are just adding to their inventory and training.

These are not ancient versions either but rather modernized versions of the M109 with digital fire control systems capable of being digitally linked to counter-battery radar and other systems that gives them a very flexible artillery platform. If the M109 was bad, the US Army wouldn't still be using it.

Miles Teg

Misima
12:24 10.07.2006


The Egyptians had better buy Chinese-made howitzers. They seem to be much cheaper, but as efficient as the American ones.

Azam
11:24 11.07.2006


Howitzers and tanks are something different. Do not confuse them.

Romain
11:28 12.07.2006


Howitzers are just waste of money. Missile technology will drive them out very soon.