BAE Systems Bofors Wins Artillery Order from Sweden
Category: Contracts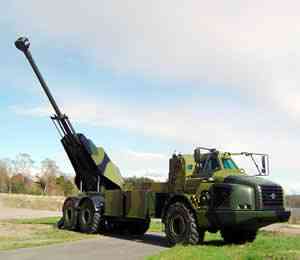 BAE Systems Bofors has received a contract worth SEK 40 million from the Swedish Defence Materiel Administration for detailed design work on the Archer program. The contract includes an additional option worth up to SEK 50 million.
Archer is a self-propelled 155 mm artillery gun based on a commercial off-the-shelf chassis, originally made for construction equipment, allowing for a system that is both simple and inexpensive to maintain. The three-man crew - as opposed to the normal six to 10 - operates all activities through computers in the splinter-proof cab. Each gun carries shells required to perform its mission. An Archer gun provides the same operational capability as four to six traditional guns.
BAE Systems Bofors previously delivered two demonstrator guns that are now undergoing testing by the Swedish Armed Forces. Order of the final development of a series of 24 guns (two artillery battalions) is planned for 2007-2008 with the first delivery in 2009. Final delivery is scheduled for two years later.
Sergyi Way
06.09.2006


www.army-guide.com
Share...




BAE Systems to deliver vehicle mounted mortar systems to Swedish Army
25.12.2016
Saab Receives Order For Vehicle Electronics For Leopard 2 Tank
11.08.2016
BAE Delivers ARCHER Artillery System to Sweden
30.09.2015
Rheinmetall Wins Major Contract from Sweden for Military Trucks
29.05.2014
Swedish Armed Forces, International Centre
Discuss