General Dynamics Won $189 Million Contract for New LAV-A2 for U.S. Marine Corps
Category: Contracts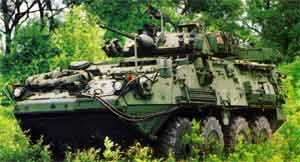 The U.S. Marine Corps has awarded General Dynamics Land Systems, a contract for $189 million for 151 new eight-wheeled Light Armored Vehicles (LAV-A2) in various configurations.
This award, which includes a $50 million option for 394 LAV-A2 electric turret drives, modifies a contract awarded in February 2006 and brings the total value of the contract to $317 million.
The LAV-A2 variants are improved versions of the Marines' Light Armored Vehicle series, which entered service in the 1980s and continues operational employment today. General Dynamics will deliver armored personnel, anti-tank, command and control, logistics and mortar variants beginning in July 2007. Work will be performed in USA and Canada, by existing General Dynamics Land Systems personnel. Work is expected to be completed by December 2008.
The Light Armored Vehicle A2 provides the Marine Corps' Light Armored Reconnaissance Battalion a mobile, agile and survivable system for conducting offensive and defensive operations in support of the Marine Air-Ground Task Force. The eight-wheeled amphibious armored vehicle is equipped with an improved suspension, fitted for enhanced armor protection, and features an automatic fire-suppression system for crew protection. Power is provided by a Detroit Diesel 6V53T diesel engine, developing 275 horsepower, coupled to an Allison MT653, six-speed (five forward, one reverse) automatic transmission. The four rear wheels drive the vehicle on a full-time basis, while eight-wheel-drive is selectable.
Sergyi Way
09.10.2006


www.army-guide.com
Share...




KONGSBERG Awarded Contract from GDLS Supporting US Army Stryker ECP Program
11.07.2013
GDLS-Canada Awarded $24 M LAV-A2 Contract by USMC
17.01.2013
Fifty-one new Foxhound vehicles for the front line
25.11.2012
BAE Systems gets R900m MRAP upgrade deal
01.02.2011
General Dynamics Land Systems - GDLS
General Dynamics Land Systems - GDLS - Canada
Discuss