Mexico Buys Russian Lorries
Category: Defence Industry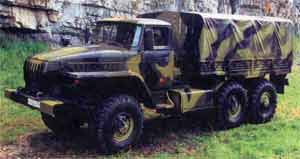 Mexico has bought a batch of Russian-made Ural lorries. The contract concluded between the Mexican Department of the Navy and the Russian Rosoboronexport State-owned Foreign Trade Company, envisages supply of 22 vehicles in 2005.
The contract in question resulted from the fact that Mexico had already received vehicles produced by the Uralskiy Motor-car Plant and was satisfied with the results of its service.
More than 50 6x6 Ural-series lorries are used in Mexico starting from June 2004. Experts from the UralAZ Motor-car Plant provide training for Mexican drivers, informing them about the peculiarities of operation and maintenance of the new vehicles.
At the present time, the sides are considering the possibilities of establishing Ural-series vehicle assembly lines in Mexico, as not only the military, but also some civil establishments and private entrepreneurs seem to be interested in the vehicles.
Sergyi Wey
15.02.2005


www.army-guide.com
Share...




Otokar to present COBRA II and ARMA 6x6 at GDA 2017
13.12.2017
Otokar showcases 15 vehicles at IDEF 2017
09.05.2017
Otokar is now closer to its users in the Gulf Region
25.02.2017
Otokar to introduce TULPAR-S APC at Eurosatory
02.07.2016
URAL OPTICAL & MECHANICAL PLANT FSUE
AVTOURAL Trading House - General Dealer of Ural Automobile Works JSC
Ural Automobile Engine Plant - UAMZ
Ural-63095 Tajfun-U (Mine protected carrier)
Ural 4x4 (Wheeled armoured personnel carrier)
Ural-63704-0010 Tornado-U (Truck)
Ural-53099 Tajfun-U (Mine protected carrier)
Discuss