120mm Ammunition Handling System Demonstrated
Category: Future Technologies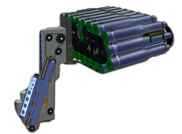 IRVINE, 17 December 2007—A major subsystem of the Future Combat Systems` Manned Ground Vehicles was put through its paces on December 4, 2007, at Meggitt Defense Systems` Irvine headquarters before representatives of the Army, General Dynamics Land Systems (GDLS), the FCS Lead Systems Integrator team of Boeing and SAIC, PM-Main Armament Systems, ARDEC, Alliant TechSystems, and General Dynamics Ordnance and Tactical Systems.
The Mounted Combat System's (MCS) 120mm fully automated Ammunition Handling System (AHS) demonstrated a wide spectrum of its capabilities in advance of its delivery to GDLS in the first quarter of 2008.
The AHS will be integrated into the MCS Firing Fixture and subsequently will undergo rigorous Turret Motion Based Simulator (TMBS) testing and firing tests. Representatives who witnessed the demonstration were pleased by what they saw. During the post-demonstration outbrief, one official commented that the FCS program already has demonstrated that the XM360 Primary Weapon Assembly is a 'go,' and here was an initial demonstration that a suitable Ammunition Handling System will be available to service it. Meggitt Defense Systems, Inc. (MDSI) was awarded the SDD contract by GDLS in October 2005 and is supported in its development work by General Dynamics Armament and Technical Products and Curtiss Wright Controls and Embedded Computing as well as the MCS Integrated Product Teams at GDLS. Additional test systems will be delivered by MDSI to GDLS in 2008, and pre-production systems will begin delivery in early 2010. Because the MCS is a compact, lightweight vehicle operating with a crew of three, automation of vehicle functions is mandated.
The MCS AHS performs the full spectrum of ammunition handling functions including: vehicle ammunition complement upload, round identification and inventory management, rapid fire loading of the main gun, ejection of spent cases and misfires, downloading of the gun, and off-loading remaining vehicle ammunition. These heretofore manual, labor-intensive tasks are performed by the MCS AHS that in essence acts like a robotic fourth crewman.
Meggitt Defense Systems
19.01.2008

Share...




Meggitt Training Systems to exhibit at DSEI 2017
14.09.2017
Recapitalization of 218 M1A2 Tanks and Related Equipment and Support
16.12.2016
ADF Weapons Simulator Contract
06.07.2016
Meggitt Training Systems Awarded $25 M Support Contract with Canadian Armed Forces
26.08.2015
Discuss