Thermal Imaging Sight (Thermal Imager)
Category: Term of the day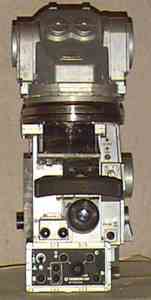 A sight based on the use of infra-red technology to produce a picture of the heat signature of an object against its background. It is a passive system which detects infra-red (IR) radiation emitted by the target and converts this into an electrical signal which can be used to create a visual image.
There are a number of materials which produce an electrical signal when exposed to IR radiation, but the most commonly used is Cadmium Mercury Telluride (CMT). This semiconductor material, with suitable doping, produces usable outputs in both the 3-5 and the 8-13 micron wavebands. With the CMT cooled to about -200 degrees Centigrade, particularly high sensitivity is achieved in the 8-13 micron waveband. Thus, when good picture quality is required, 8-13 microns has proved to be first choice for scanning TI systems, in which the detector is only briefly exposed at each picture point. Detectors operating in the 3-5 micron waveband will produce usable images at about -60 degrees Centigrade. Other materials, such as Indium Antimonide are also used in the 3-5 micron waveband.
Unlike other sights, which requires some ambient visible radiation, the thermal imager will function in complete darkness, enabling the operator to see various objects at distances of up to several kilometers.
The main component of the thermal imager is a thermal camera. The most known producers of thermal cameras are French SAGEM and THALES companies.
Sergyi Way
24.07.2006


www.army-guide.com
Share...




TEMPORARY COMPANY GROUPING EBMR MEETS ITS DELIVERY OBJECTIVES FOR 2019
14.01.2020
Rheinmetall Presents Next Gen "Wiesel Wingman" solution for Robotic Combat Vehicle – Light at AUSA 2019
04.11.2019
THALES AUSTRALIA AND GENERAL DYNAMICS ORDNANCE AND TACTICAL SYSTEMS DELIVERING FOR THE ADF
12.06.2019
AKREP II electric armored vehicle presented in Turkey
25.04.2019
Sagem Defense Securite (SAFRAN Group)
Thales Raytheon Systems France
Thales Optronics (Taunton) Ltd
Thales Training & Simulation (USA)
Discuss
Records 1 to 8 of 8
Post

Misima
15:17 26.07.2006


Are there any other producers of thermal imagers except french companies?

Huda
13:14 01.08.2006


There are producers of thermal imagers in Germany and US. Also China.

Fabian
18:18 01.08.2006


Thermal imager is a very useful syghting system. It enaabled US tankers to see Iraqi T-72s thru smoke of burning oil wells and engage them, while the Iraqi tankers were not able to see the Americans.

Azam
10:36 02.08.2006


Thermal imagers require air conditioning system in the vehicle obligatorily. The Indian T-90 tanks are out of order in hot weather of the desert because their thermal imagers fail.

Ayed
09:32 03.08.2006


The Indians should have foreseen this problems before they aquicre tanks of this design. Haste makes waste.

Misima
11:51 04.08.2006


This should have been foreseen by the Russians who developed these tanks.

Huda
17:09 07.08.2006


Anyhow, the Indian Armoured Corps is a mile ahead of the Pakistan Tank Force, because the Pakistani tanks are not fitted with thermal imagers at all.

Ayed
13:48 09.08.2006


That is not exactly true. T-80UDs are not fitted with thermal imaging systems, but Al-Khalid MBTs have thermal imagers installed.