Russia to supply some 100 armoured police vehicles to China
Category: Defence Industry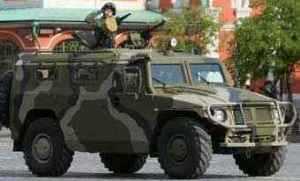 Moscow, 20 May: Russia is to supply about 100 multi-purpose Tigr vehicles, built at the Arzamas machine-building plant, which is part of the Military-Industrial Company, in fulfilment of the two countries' military-technical cooperation plans, a source in the Russian defence industry has told Interfax-AVN.
"Under the agreement singed in 2007 between China and the plant, Russia is to supply about a hundred Tigr vehicles, which are Russia's most formidable all-road personnel carriers featuring armour protection of the fifth category of the six possible," he said, noting that the first batch of vehicles, designed for special police role and capable of carrying nine personnel, will be dispatched to China in early June.
"The first batch of Tigrs will be delivered assembled, while the rest will be shipped as complete sets to be assembled at Chinese factories under the agreement," the source added, refusing to disclose information about the contract price.
Interfax-AVN
22.05.2008

Share...




At the Army-2019 will be presented a new version of the Tiger armored vehicle.
24.06.2019
Tigr at Tank Days in Slovakia
12.07.2016
Tiger sneaks into Europe
03.06.2016
Textron Marine & Land Systems Presents Tiger Light Protected Vehicle to Slidell Police Department
06.08.2013
GAZ-2330 STS Tiger (Tactical vehicle)
Tiger (Reconnaissance Vehicle)
VPK-233136 Tiger-M (Tactical vehicle)
China Tiger (Wheeled armoured personnel carrier)
Tiger Next/AMN-2 (Tactical vehicle)
Discuss