Oshkosh Defense Exhibits Protected Vehicle Capabilities at LAAD Security
Category: Exhibitions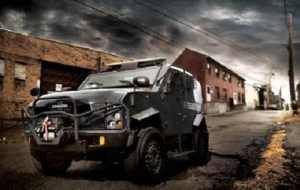 Personnel protection in Latin America is an increasing concern for corporate, municipal, federal and other government forces. Security and safety professionals will have an opportunity this week to learn more about the protected vehicle offerings from Oshkosh Defense, a division of Oshkosh Corporation, at the LAAD Security 2012 exhibition in Rio de Janeiro, Brazil, April 10-12.
Oshkosh will display its SandCat Tactical Protector Vehicle (TPV) at the show. The SandCat TPV combines the agility and drivability of a consumer truck with the protection capabilities of a tactical military vehicle.
"Our SandCat TPV is a highly customizable vehicle designed for public safety officials needing to increase their protective detail for special events such as the World Cup and the Olympics, as well as provide critical support needed for daily patrols in urban environments or off-road terrain," said Serge Buchakjian, senior vice president and general manager of International Programs for Oshkosh Defense. "We back our vehicles and products with full life-cycle sustainment and support services anywhere in the world."
Oshkosh Defense has more than 90 years of experience designing, manufacturing and sustaining world-class vehicles for governments and militaries around the world. Oshkosh uses a collaborative, integrated approach to meet customers' needs, from vehicle design and flexible manufacturing to training and aftermarket sustainment. Oshkosh can also provide in-country manufacturing capabilities to provide lasting value to local economies. The company has produced more than 100,000 military-class trucks and trailers, with vehicle payloads that cover the complete light-to-heavy spectrum.
Oshkosh vehicles have been proven on severe off-road terrain and against a variety of modern threats, and used by militaries, special forces units and government agencies around the world. Oshkosh's advanced technologies deliver capabilities such as extensive off-road mobility, exportable power, autonomous operation and integrated on-board diagnostics.
Oshkosh's aftermarket solutions cover the complete spectrum of vehicle life-cycle support, including training services, instruction manuals, maintenance and repairs, parts supply, and fleet restoration services. Oshkosh Field Service Representatives (FSR) travel globally to ensure vehicles and personnel are at peak operational readiness. The company's robust operator and maintenance training services provide systems-level expertise on the platforms and technologies they support, with classes offered at the Oshkosh Product Training Center, regional service centers around the world or in-theater. Additionally, Oshkosh's parts-supply network is available around the clock to provide instant access to spare and repair parts for all vehicle makes and models.
The SandCat TPV is part of the Oshkosh SandCat family of vehicles and can be configured to meet individual performance, protection and payload needs. The vehicle's armor system can be customized based on the threat level and mission profile. Seating capacity can be adjusted to accommodate four to nine passengers. The vehicle also can be equipped with standard or customized storage, and is typically integrated with a wide array of weapons and communications systems. The SandCat TPV's compact design, combined with a 14-inch vertical step capability and 42-foot curb-to-curb turning circle, enables mobility in both tight urban settings and rugged rural landscapes.
The SandCat family of vehicles also includes the base vehicle, Special Operations Vehicle (SOV) and Mine-Resistant Light Patrol Vehicle (M-LPV). These variants are based on the same lightweight, highly maneuverable platform for eased maintenance and repairs worldwide. Oshkosh has received orders for the SandCat from Mexico, the United States, Sweden, Bulgaria, Canada, Nigeria and Israel.
Oshkosh
10.04.2012

Share...




Oshkosh Defense Receives Order for 248 Joint Light Tactical Vehicles
02.07.2020
Oshkosh Defense Receives $407.3 Million Order for Joint Light Tactical Vehicles
24.02.2020
Oshkosh Defense Exhibits JLTV Firepower at IDEX 2019
24.02.2019
Oshkosh FMTV A2 Makes Debut at Ausa 2018, Multiple JLTVS Command the Floor
14.10.2018
Discuss