Trusted Casspir Adds Firepower To Its Mine-Protection Qualities
Category: Defence Industry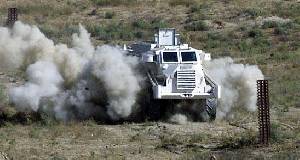 The versatility and range of Denel's Casspir mine-protected vehicles has been expanded to accommodate the firepower requirements of different clients. This will attract the interest of defence clients looking for a versatile and cost-effective family of mine-resistant vehicles.
The General Manager of Mechem, Ashley Williams, says the Casspir is one of the most-trusted global brands for defence and police forces who require mobility and superior protection against landmines, roadside bombs and automatic rifle fire.
In the latest development of the Casspir 2000 clients can now select the type and range of firepower required to be fitted onto the vehicle. The new variants can serve as platforms for 81mm mortar systems, anti-tank and anti-aircraft weapons. The Plofadder mine-clearing system, developed by Rheinmetall Denel Munitions can also be fitted onto the Casspir hull.
Williams says Mechem is responding to opportunities in defence markets where clients need a single platform with a number of variants to meet operational requirements. The versatility of the Casspir, its modular design and its long track record of success in many environments since it first came off the production line in 1979 are among its most important features.
Denel is now able to produce a tailor-made Casspir according to the requirements of the client. Different modules are fitted onto the standard platform system and then modified according to client specifications.
This significantly extends the range and versatility of the Casspir which can now be used as a reconnaissance vehicle, a troop carrier or as a fire-support vehicle equipped with mortars, anti-aircraft or anti-tank weaponry.
Williams says this makes the Casspir the most cost-effective vehicle in its class in the world. "Our clients can now use the same family of vehicles that offer superior levels of protection and mobility, but in different roles"
This means substantial savings on maintenance costs, spare parts and logistics. All Mechem's sales are accompanied by training packages, maintenance agreements and comprehensive fleet support, including inside the client country.
The Casspir is the vehicle of choice for demining or peace-keeping operations and has been used from Afghanistan to Mozambique by the United Nations, the South African National Defence Force, police services and private security companies around the globe.
The hull and platform of the vehicle is manufactured in its entirety in South Africa by Mechem and its partners in the local defence industry. Existing Casspir 2000NG vehicles can also be upgraded and modified to fulfil different roles as required by the client.
The conventional Casspir can be adapted to serve as a command-and-control vehicle, a field ambulance or a recovery vehicle. All variants are fitted with run-flat tyres and are available in 6X6 or 4X4 format and with a choice of manual or automatic transmission.
Williams says the Casspir is designed to withstand the blast of 14kg of explosives under each wheel – which is more than can be delivered by two landmines. It has a cruising speed of up to 40kph per hours in most off-road conditions and a reach of up to 800km on a standard fuel tank.
Sergyi Way
02.03.2016


www.army-guide.com
Share...




More CASSPIRS Ready For Delivery To African Client
25.07.2017
Casspir Eland Joins Denel's Impressive Vehicle Stable
01.02.2016
New Generation Casspir Raises the Standards for Mine-Protected Vehicles
18.04.2013
BAE Launch New Casspir Vehicle
19.08.2011
Casspir (Mine protected carrier)
Casspir Mk III (Mine protected carrier)
Casspir Mk IV (Mine protected carrier)
Casspir Mk VI Protector (Mine protected carrier)
Casspir NG 2000 (Mine protected carrier)
Discuss