Russian Defense Industry At DEFEXPO INDIA-2008
Category: Exhibitions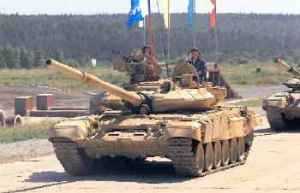 The 5th International Land and Naval Systems Exhibition DEFEXPO India-2008 will be held at the Pragati Maidan grounds in New Delhi, India on February 16-19, 2008. It is justly viewed as one of the prestigious defense events in the Asia Pacific region.
The exhibition, which takes place for the fifth time, is traditionally organized by the Confederation of Indian Industry in partnership with the Defense Exhibitions Organization, the Ministry of Defense and the Government of India. It showcases armored vehicles, artillery, small arms, air defense weapons, EW and communications equipment, army aircraft, naval weaponry, satellite and space technologies, electro-optical devices, and dual-use products. The exhibition area (pavilions and outdoor display areas) occupies about 18,000 sq. m.
Russia is a regular participant in DEFEXPO India. Since the first ever DEFEXPO 1999 the Russian arms exporters have been seeking to actively use this important platform to promote the achievements of the domestic defense industry. At DEFEXPO India-2008, whose holding falls on the opening of the Year of Russia in India, 25 Russian defense enterprises and organizations will show their latest products. The exposition totaling 400 sq. m, organized by Rosoboronexport, encompasses full-scale hardware, models, mock-ups, posters, reference and promotional materials on over 550 export defense and dual-use products targeted to meet the needs of India and other South Asian and Asia Pacific countries.
The Land Forces section is the most saturated one and displays both modern and upgraded versions of armored vehicles, missile and artillery systems, fire control systems, radar reconnaissance and engineering equipment, all-service and special small arms, optical and electro-optical devices.
Foreign customers may get acquainted with the T-90S MBT, which entered service with the Indian Land Forces within the framework of the Russian-Indian militarytechnical cooperation, upgrading variants for the Indian T-72 MBTs and BMP-2 IFVs.
Russia's proposals on T-72 upgrading feature several technological 'know-hows' like an advanced fire control system, a new explosive reactive armor system, and a special aerosol screen-laying system.
The range of the exhibited defense products for the Land Forces also includes self-propelled artillery guns and howitzers, antitank missile and missile/gun air defense systems, small arms and close-in weapons.
Special emphasis in the Russian exposition is given to the Smerch and Grad multiple rocket launcher (MRL) systems and to a wide range of artillery rockets for them.
Being the most powerful and cost-effective means for neutralization of the enemy forces at 20 to 90 km, these systems are in demand worldwide. The Smerch MRL system has successfully undergone qualification tests in India and substantiated its unique combat characteristics. In view of the growing role and importance of artillery fire control automation, the Russian exposition contains detailed information on the Kapustnik-B and Mashina-M automated fire control systems. These systems make it possible to conduct day/night reconnaissance in any climate and terrain conditions, plan combat actions, control fire and fire maneuvering, and provide operational security to artillery fire in an ECM environment. In addition, the operational effectiveness of artillery units increases on average by 30-40%.
The professionals will definitely show interest in a wide range of highly efficient small arms and ammunition displayed at the Russian exposition: improved 5.56 mm AK-101 and AK-102 and 7.62 mm AK-103 and AK-104 Kalashnikov assault rifles, 5.45 mm AN-94 Abakan assault rifle, 9 mm Bizon-2-01 submachine gun, 12.7 mm OSV-96 sniper rifle, night and day optical sights for small arms, 30 mm AGS-30 automated grenade launcher, RPG-7V2 handheld antitank grenade launcher with an optical sight and UP-7V sighting device, as well as rounds, grenades, mines and cartridges of different purpose and lethality.
The Russian delegation and Rosoboronexport representatives hope that Russia's participation in DEFEXPO India-2008 will become an important milestone in expanding military-technical cooperation between Russia and South Asian and Asia Pacific countries, while talks held here will lay the basis for signing new contracts with them on acquisition of Russian armaments and military equipment and their further integration into the national and regional collective security systems.
Rosoboronexport
14.02.2008

Share...




TATRA TRUCKS at Defexpo India 2016
31.03.2016
Tata Motors and Supacat jointly develop Light Armoured Multipurpose Vehicle (LAMV)
11.02.2014
Izhevsk Electromechanical Plant "Kupol" will take part in the International Exhibition DEFEKSPO INDIA-2014
29.01.2014
MTL Group's Advanced Design Solutions at DEFEXPO INDIA 2012
30.03.2012
ROSOBORONEXPORT, State Corporation
Discuss