Otokar Awarded $63.2 M Contract for ARMA 6x6
Category: Contracts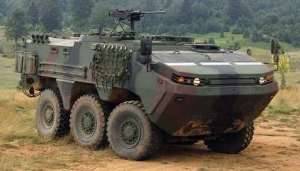 Turkey -- Turkish leading and largest privately owned tactical vehicles manufacturer Otokar has been awarded a $63.2 million contract for its new 6x6 tactical armoured vehicle ARMA. Deliveries are scheduled to be in 2012 and Otokar will provide spare parts and training under the contract requirements.
"This award is the second export contract for ARMA 6x6 in its first year" says Serdar Gorguc, Otokar's General Manager. "As the leading designer and exporter of armoured vehicles in Turkey, we continue to grow in defence industry with local and international orders. Representing the Turkish defence industry in world arena with our well-known armoured vehicles, we continue to execute contracts abroad. We are proud to sign the second contract although it has only been twelve months since we introduced the ARMA. This award demonstrates that ARMA is the new generation answer and ideal concept and design for upcoming threats, and expectations of modern armed forces. This second contract which is signed quite soon after the presentation of the vehicle to users is a strong indicator that ARMA will be one of the flagships of Otokar's product range."
ARMA is the newest product family within the Otokar's the tactical wheeled armoured vehicle range with modular multi-wheel configuration. ARMA provides superior tactical and technical features with an outstanding cost among competitive products. Thanks to the high level of ballistic and mine protection as well as, the outstanding design allowing the integration of various types of mission equipments, ARMA is an adaptable platform for evolving mission needs in a modern battlefield.
About ARMA 6x6
The 6.4 m long, 2.7 m wide and 2.2 m high ARMA 6x6 variant has an 19 tonnes combat weight and carries a driver, commander and eight dismounts in its fully NBC protected hull. The vehicle is C-130 air transportable in standard configuration.
ARMA's front two axles are steerable enabling it to make a turning radius of 7.85 m and the vehicle rides on independent hydro-pneumatic suspension, offering respectable off-road mobility. Tyre run flat capability and Central inflation system is supplied as standard. It can negotiate a 45-degree approach and departure angles leading onto 60 per cent inclines and 30 per cent side-slopes. It can also cross 1.2 m wide trenches and climb over 60 cm obstacles.
A 450 hp water-cooled turbo diesel capable of running on F-34 or F-54 fuel drives the wheels through an automatic gearbox and single-speed transfer box, giving it a top speed of 105 km/h and a power/weight ratio of 24.3 hp/tonne.
This also powers the onboard 24 V DC electrical system, which incorporates two maintenance-free 125 Ah batteries and a 3.3 kW converter.
The engine is located at the right front of the vehicle, allowing a comparably high internal volume to be efficiently and ergonomically used. With this internal layout, all the personnel especially the commander can keep eye contact continuously among each other.
ARMA 6x6 can be driven in 6x6 or 6x4 modes depending upon the terrain conditions. The vehicle is amphibious and driven by 2 hydraulically driven propellors in water allowing a high seagoing performance with a pivot turn capability. ARMA's ballistic and anti-mine protection is provided by high hardness monocoque steel hull and all personnel is seated on anti- mine seats.
Otokar
07.06.2011

Share...




Otokar offers solutions with technology transfer and local manufacturing models
13.09.2019
AKREP II electric armored vehicle presented in Turkey
25.04.2019
Cobra-1600 EOD UGV for the first time entered service brigade of the Russian army
10.08.2018
Otokar Receives $28.9 Million Contract for its Armored Vehicles
31.07.2018
OTOKAR Otobus Karoseri Sanayi A.S.
COBRA (Wheeled armoured personnel carrier)
Cobra-K (Infantry fighting vehicle)
Cobra-S (Infantry fighting vehicle)
COBRA (Control and command vehicle)
COBRA (Reconnaissance Vehicle)
COBRA (Nuclear/biological/chemical reconnaissance vehicle)
COBRA II (Wheeled armoured personnel carrier)
Cobra (Tracked armoured personnel carrier)
Arma 6x6 (Wheeled armoured personnel carrier)
COBRA MK2 (Robot, Unmanned Vehicle)
Cobra (Wheeled armoured personnel carrier)
Cobra (Mine protected carrier)
Cobra (Wheeled armoured personnel carrier)
Arma 8x8 (Wheeled armoured personnel carrier)
COBRA MK2 Ñ (Robot, Unmanned Vehicle)
COBRA MK2 E (Robot, Unmanned Vehicle)
Cobra (Wheeled armoured personnel carrier)
Discuss