Cobra-1600 EOD UGV for the first time entered service brigade of the Russian army
Category: Robots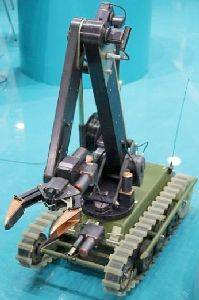 Remote controlled Cobra-1600 Explosive Ordnance Disposal Unmanned Ground Vehicle (EOD UGV), for the first time entered service brigade of the Russian army.
Cobra-1600 EOD UGV is used for visual reconnaissance, search and primary diagnosis of suspicious objects with cameras, and special attachments. For the evacuation of neutralized explosive devices, the UGV is equipped with special containers. Also, the robot is used in performing technological operations to provide access to potentially dangerous objects.
The UGV is controlled both by cable and by radio, depending on the situation. The duration of the robot's continuous operation is four to eight hours. The tracked platform allows the Cobra-1600 to overcome 160 mm vertical obstacles and fording up to 120 mm water deep.
Sergyi Way
10.08.2018


www.army-guide.com
Share...




Otokar offers solutions with technology transfer and local manufacturing models
13.09.2019
AKREP II electric armored vehicle presented in Turkey
25.04.2019
Otokar debuts its Light Tank in Paris
19.06.2018
Otokar to present COBRA II and ARMA 6x6 at GDA 2017
13.12.2017
COBRA (Wheeled armoured personnel carrier)
Cobra-K (Infantry fighting vehicle)
Cobra-S (Infantry fighting vehicle)
COBRA (Control and command vehicle)
COBRA (Reconnaissance Vehicle)
COBRA (Nuclear/biological/chemical reconnaissance vehicle)
COBRA II (Wheeled armoured personnel carrier)
Cobra (Tracked armoured personnel carrier)
COBRA MK2 (Robot, Unmanned Vehicle)
Cobra (Wheeled armoured personnel carrier)
Cobra (Mine protected carrier)
Cobra (Wheeled armoured personnel carrier)
COBRA MK2 Ñ (Robot, Unmanned Vehicle)
COBRA MK2 E (Robot, Unmanned Vehicle)
Cobra (Wheeled armoured personnel carrier)
Discuss