Marauder armored vehicle featured in Top Gear
Category: Defence Industry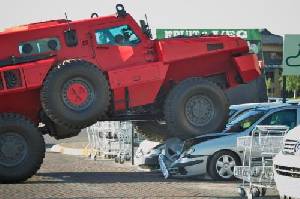 Top Gear episode 1 of season 17 aired last night on the BBC featuring a high-mobility armoured personnel carrier called the Marauder.
Claimed to be the "world's most unstoppable vehicle" the Marauder can provide protection against mines, IEDs and ballistic attack. It can also carry up to 10 fully armed troops and can be configured in a number of variants depending on the role.
Designed and built by the Paramount Group of South Africa, Top Gear sent co-host Richard Hammond there to put the Marauder through a series of extreme challenges. Without breaking a sweat, the Marauder flattened cars, smashed through brick walls and fended off attacks by hungry lions in the South African bush. As a finale, a Marauder and a Hummer were blown up in explosions simulating the roadside bombs faced daily in conflict zones. The Hummer was totally destroyed, but the Marauder was barely damaged and drove away.
Ivor Ichikowitz, the Executive Chairman of the Paramount Group, said: "Despite the fun working with Top Gear, it is important to remember soldier protection is a very serious issue for armies worldwide. We are talking about saving lives. With this type of technology available and the ever present threat of IED's there really is no excuse for governments not to provide the best protected vehicles for their defence forces."
Weighing around 15 tons, the Marauder can carry 3 tons, hit a maximum speed of 120 km/h (75 mph), can be used as an infantry patrol vehicle, a command center or an ambulance while withstanding explosions of 14kg of TNT under its wheels and 7kg under its hull as well as rocket attacks.
Paramount Group
27.06.2011

Share...




Kazakhstan Paramount Engineering's 8x8 combat vehicle nearing service entry
14.03.2018
Production of ALAN armored cars is in place in Kazakhstan
10.12.2017
Factory Tests Barys 8x8 Armored Vehicle Started In Kazakhstan
23.11.2017
Paramount Group Unveils New Generation 8x8 Infantry Combat Vehicle For Global Defence Market
03.06.2016
MATADOR (Mine protected carrier)
MARAUDER (Mine protected carrier)
Matador (Wheeled armoured personnel carrier)
Discuss