Applications of IBD NANOTech Solutions
Category: Future Technologies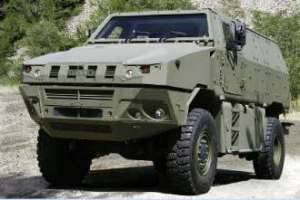 The huge demand for the IBD NANOTech products during the DSEi 2011 in London underlines the great need for high level but light weight protection solutions for armoured vehicles, aircrafts and other applications.
The full spectrum of products based on nano-technologies developed and introduced by IBD allows the design of outstanding high level survivability systems with unmatched low weight. These products comprise ceramics, steel and composite materials, all of them showing greatly improved ballistic performance over an extended temperature range.
The visitors were shown various applications of these technologies. Since 2010 IBD was able to qualify solutions on a wide range of platforms, ranging from light 4x4 vehicles over medium 8x8 APCs and tracked IFVs up to the Leopard 2 A4 main battle tank. All vehicles can be equipped with a mine and IED protection at a level that was not achievable before.
IBD succeeded in the development of processes allowing to reduce the production costs so that the new technologies and solutions can be offered at competitive prices giving the customers a combined benefit in terms of:
• Higher protection
• Lower weight
• Higher mobility
• Higher payload
• Lower life cycle costs
IBD
27.09.2011

Share...




Patria's latest technology featured at DSEI 2017
11.09.2017
Textron TAPV Team Submits Tactical Armoured Patrol Vehicle Proposal
07.09.2011
The Joint-Venture Company Will Commercialize Q-Flo's Carbon Nanotube Fibre to Enhance Composite Armor
25.11.2010
Riley Selected for DARPA Armor Challenge
21.07.2010
Discuss