Paramount Group to exhibit latest defence technology at IDEX 2013
Category: Defence Industry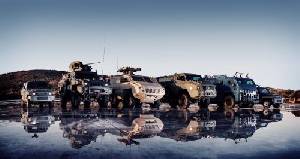 Africa's largest privately-owned defence and aerospace company, Paramount Group, will this week demonstrate its world leading selection of innovative defence solutions at IDEX 2013, held in Abu Dhabi.
IDEX 2013 will showcase Paramount's latest cutting-edge offerings in aerospace, electronic, naval and land systems, as well as peacekeeping and internal security.
In the last two years, Paramount has grown fast – driven by increased business in Africa and new market entries in booming markets, including the Middle East.
Ivor Ichikowitz, Executive Chairman of Paramount Group, said: "The Middle East is a key region for Paramount Group. A lot has happened in the region since IDEX 2011, the Arab Spring and the war in Syria have dominated the international headlines in 2012, and there are still a myriad of challenging security issues in the region.
"In particular, governments across the region are faced with the triple challenge of monitoring long and porous borders, fighting terrorism and controlling internal civil unrest, often simultaneously. Each of these challenges requires a tailored response, and our range of solutions are designed to meet the diverse challenges of modern security in the region.
"The Marauder Patrol, which we will be exhibiting in the region for the first time, is particularly well suited to police and special forces that require an agile and quick response vehicle for use in tough environments and protection from grenades and AK-47 rounds.
"Our specialised range of revolutionary security technologies, such as the Maverick for internal security issues, the Mbombe for advanced infantry fighting, and the AHRLAC for reconnaissance, are ideal for the important challenges the Middle East has to face.
"IDEX will also give Paramount Group the chance to once again fly the flag for the South African defence industry, which has a strong heritage of innovative armoured vehicle design, and demonstrate the market-leading abilities of Africa's engineers."
On display will be the Marauder, a mine-protected armoured vehicle labelled the "world's toughest vehicle" by the BBC television show Top Gear; a scale model of Africa's first domestically built aircraft, AHRLAC; the Marauder Patrol, a lightweight and versatile armoured 4x4; Maverick, an internal security vehicle, which is kitted out as a command and control centre; scale models of the Mirage F1 fighter, MI 24 helicopter and multi-purpose naval vessels.
Paramount
16.02.2013

Share...




Kazakhstan Paramount Engineering's 8x8 combat vehicle nearing service entry
14.03.2018
Production of ALAN armored cars is in place in Kazakhstan
10.12.2017
Factory Tests Barys 8x8 Armored Vehicle Started In Kazakhstan
23.11.2017
Paramount Group Unveils New Generation 8x8 Infantry Combat Vehicle For Global Defence Market
03.06.2016
Kazakhstan Paramount Engineering LLP
MATADOR (Mine protected carrier)
MARAUDER (Mine protected carrier)
Matador (Wheeled armoured personnel carrier)
Discuss